Dave Eshelman Biography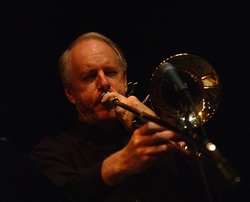 Dave Eshelman is Director Emeritus of Jazz Studies at California State University, East Bay. Dave led the CSU East Bay Jazz Ensemble on four European concert tours (2000, 2003, 2005, 2007) as well as one tour to Brazil (2001). The band performed at the International Association of Jazz Education International Conference three times (1995, 1999, 2005). He has conducted the California CMEA All State Jazz Band, the Northern California Grammy In The Schools All Star Big Band and numerous district and county honor jazz bands.

As a trombonist he has been a featured soloist with the big bands of Ray Brown, Joe Henderson, Tito Puente and Gerald Wilson. His quartet CD release Mystique features John Abercrombie, guitar, John Patitucci, bass and drummer Peter Erskine. In the summer of 2002, Dave led an All-Star Big Band Tribute to West Coast Jazz in concerts at the Verona Jazz Festival in Italy and at the Vienne Jazz Festival in France. Among those performing in that band were Bud Shank, Pete Jolly, Teddy Edwards, Joe La Barbara, Bobby Shew, Bill Perkins, and Dick Nash.

He has recorded five projects as leader-composer of the Jazz Garden Big Band and four jazz albums in association with Ray Brown. Dave was commissioned by the San Jose Jazz Society to compose, record, and perform Suite For Jazz Orchestra with his big band at the San Jose Jazz Festival. He has written, conducted and recorded three CD projects for Philippe Kahn featuring jazz greats John Abercrombie, Alex Acuna, Richie Bierach, Terence Blanchard, Alan Broadbent, Patty Cathcart, Don Cherry, Paul Contos, Peter Erskine, Charlie Haden, Billy Hart, Dave Liebman, Ron McClure and John Patitucci.

Dave publishes with the Neil Kjos Music Company and Walrus Music Publishing. His compositions and arrangements have been recorded and performed by bands throughout the United States and Europe. Since retiring in 2007 he has performed as guest soloist with De Anza College, Albany High School, Diablo Valley College, El Cerrito High School, The Jazz School Big Band, Cabrillo College, Santa Cruz High School, The Sacramento Jazz Orchestra, CSU East Bay at Yoshi's , St. Mary's College and presented clinics for the CMEA State and Bay Section Conferences. Dave currently teaches every summer at the Hayward-La Honda Music Camp and leads the Jazzschool Studio Band at the California Jazz Conservatory in Berkeley, California.


---